Manson Cemetery
Kittery, Maine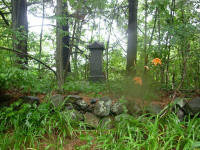 Please feel free to use any of the photos shown for your personal records. However, you may not use them for publishing or profit in any way without my written permission. Thank you.
Click on any photo below for a full size version. All transcriptions are exactly as they appear on the stone. Unreadable sections are indicated by [ ] with the closest approximation of what I believe it had said. If you get a "hit" please let me know so I will know this is a project worth continuing. Please write if you have any information you would like to share about these families. dnwalsh@aol.com
This cemetery is located on Fernald Road in Kittery, Maine.
AUGUSTUS E.
son of
Lorenzo D. & Phebe
MANSON

(buried but according to the Maine Old Cemetery Association it reads: 13 Oct. 1872- 28 Feb. 1874)

HARRY C.

MANSON

(Illeg. but according to Maine Old Cemetery Association it reads "son of Lorenzo Manson, 23 Dec 1871-ww Feb 1874)

HARRY C. MANSON
DEC. 23 1871
FEB. 22, 1874

AUGUSTUS E. MANSON
OCT. 13, 1872
FEB. 28, 1874


LORENZO D. MANSON
JULY 31, 1832
APR 24, 1898

MARY A. R. MANSON
JUN. 17, 1835
SEP. 23, 1869

PHEBE P. MANSON
MAY 29, 1842
MAY 18, 1896

(Manson Monument)

MARY A.

P P M

(Phebe P. Manson)
Copyright © 2001 Darlene Walsh. All rights reserved.
Revised: October 01, 2007 .