McCrellis Cemetery
Sanford, Maine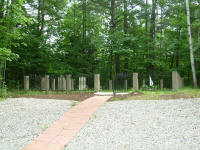 Please feel free to use any of the photos shown for your personal records. However, you may not use them for publishing or profit in any way without my written permission. Thank you.

Click on any photo below for a full size version. All transcriptions are exactly as they appear on the stone. Unreadable sections are indicated by [ ] with the closest approximation of what I believe it had said. If you get a "hit" please let me know so I will know this is a project worth continuing. Please write if you have any information you would like to share about these families. dnwalsh@aol.com
This cemetery is located on Twombley Road behind the old Twombley Greenhouse about 1/2 mile from the North Berwick line.
NANCY J.
BENNETT,
DIED
May 18, 1859.
AEt 18 yrs. 8 mos.
&11 days


DOROTHY DOWNS
AUG. 17, 1930
BABY OF
HERMAND AND
FLORENCE J.

GUY DUBE
JULY 2, 1932
SEPT 4, 2005

ELCY
wife of
ROBERT McCRILLIS
AEt 55 yrs. 9 mos.
& 13 days.
The months of affliction are o'er.
The days and the nights of distress
We see her in anguish no more.


ROBERT McCRELLIS
DIED
Mar. 12, 1876
Aged 73 Yrs 6 d's
What to us is life without thee
Doub[ ] and despair alone
When with sighs we seek to find thee
This tomb proclaims that thou art gone.

Copyright © 2001 Darlene Walsh. All rights reserved.
Revised: October 25, 2007 .