John Hill Cemetery, Waterboro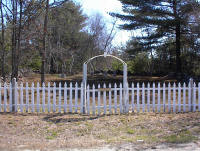 Please feel free to use any of the photos shown for your personal records. However, you may not use them for publishing or profit in any way without my written permission. Thank you.

Click on any photo below for a full size version. All transcriptions are exactly as they appear on the stone. Unreadable sections are indicated by [ ] with the closest approximation of what I believe it had said. If you get a "hit" please let me know so I will know this is a project worth continuing. Please write if you have any information you would like to share about these families. dnwalsh@aol.com

This cemetery is located in Waterboro on Route 5 at the intersection to Rob's Way. Use the red numbers to see the relative position of each grave in the chart at the bottom.
3 CAROLINE,
daughter of
John & Sally
Hill
DIED
Sept 30, 1834
AEt 12 yrs.

6 JOHN F.
Son of
John & Sally
Hill
July 15 1848
AEt 1[7] yrs

2 JOHN Jr.
Son of
John & Sally
Hill
DIED
Nov 14, 1825
AAEt 14 mos

4 JOSHUA
Son of
John & Sally
Hill
DIED
Feb 20, 1837
AEt 7 yrs

1 PHEBE,
widow of

(This stone has been broken off and repaired, but apparently only the top was saved. According to the Waterboro Library Cemeteries Page
this is Phebe Chadbourne, sister to Sally Hill and she died 2 April, 1853 at the age of 75.)

5 SALLY
daughter of
John & Sally
Hill
May 20, 1849
AEt 25 yrs

Cemetery Layout


Chart is not to scale.
Copyright © 2001 Darlene Walsh. All rights reserved.
Revised: February 13, 2007 .