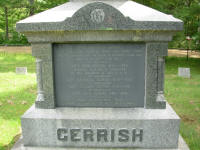 (Front)
1ST GENERATION IN AMERICA
CAPT. WILLIAM GERRISH, BORN 1617, CAME FROM
BRISTOL, ENGLAND, AND SETTLED IN NEWBURY, MASS, 1639
DIED IN SALEM, MASS 1687.
2ND GENERATION
CAPT. JOHN GERRISH 1645-1667,
MARRIED ELIZABETH DAUGHTER,
OF COL. WALDRON OF DOVER, N.H.
3RD GENERATION
CAPT. NATHANIEL GERRISH 1679-1729.
4TH GENERATION
CAPT. WILLIAM GERRISH 1714-1781.
5TH GENERATION
CAPT. JOHN GERRISH 1756-1836.
7TH GENERATION
MARK GERRISH 1818-1900.
MARY E. AUSTIN, HIS WIFE 1825-1883.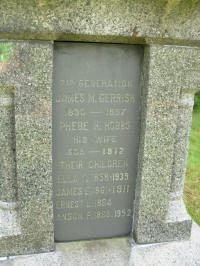 (Right Side)
7TH GENERATION
JAMES M. GERRISH
1830-1897
PHEBE H. HOBBS
HIS WIFE
1835-1912
THEIR CHILDREN
EULA F. 1858-1939
JAMES E. 1861-1911
ERNEST L. 1864
ANSON P. 1868-1952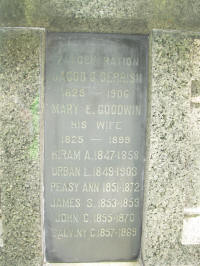 (Left Side)
7TH GENERATION
JACOB G. GERRISH
1825-1906
MARY E. GOODWIN
HIS WIFE
1825-1899
HIRAM A. 1847-1858
URBAN l. 1849-1903
PEASY ANN 1851-1872
JAMES S. 1853-1859
JOHN C. 1855-1870
SALVINY C. 1857-1869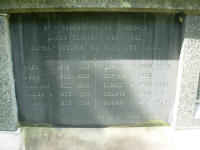 (back)
6TH GENERATION OF GERRISHES
JAMES GERRISH 1786-1852
SOPHIA GOODWIN, HIS WIFE 1799-1894
THEIR CHILDREN
MARK 1818-1900
JOAN 1820-1843
SULVINA 1822-1859
JACOB G. 1825-1906
JUDITH 1828-1904
JAMES M. 1830-1897
SOPHIA 1832-
EUNICE M. 1835-1907
CALVIN 1837-1839
SUSAN E. 1841-1842
Erected by JACOB G. GERRISH
SPRINGFIELD, MASS